Artist: Kainoa Harbottle
Imagination Holding Coins





---
Kainoa on Coins brings you the best sleight-of-hand and presentations from the Big Kahuna of Coins himself, Kainoa Harbottle. This series provides you with step-by-step techniques from one of coin magic's greatest practitioners.
Follow along and you, too, will be able to master some of the most magical and practical methods available today. Don't let anyone fool you: hard work always pays off.
Imagination Holding Coins
In an effort to explain how coin magic works, you cause a group of coins to vanish one at a time in a surprisingly clean way with the help of your audience's imagination. The audience sees and hears the coins just before they dissipate, and they directly participate in holding the momentarily invisible objects.
Perfect for close-up or platform work, Imagination Holding Coins is a devious lesson that combines audience management and simple sleight-of-hand to create interactive moments where your spectators even get to choose the ending.
COINS (SHELL)  NOT INCLUDED
$20
SHIPPING INCLUDED
Kainoa on Coins- Inferential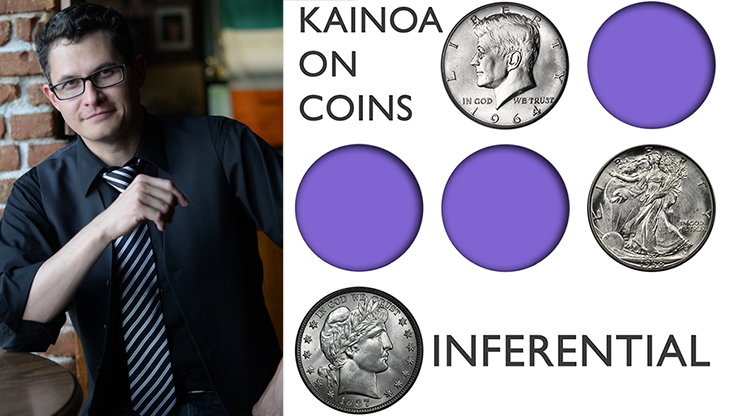 ---
Description:
The Kainoa on Coins series brings you the best sleight-of-hand instruction from the Big Kahuna of Coins, Kainoa Harbottle.
Inferential teaches three easy-to-perform copper/silver effects from the modern masters of coin magic: Kainoa, Curtis Kam, and Miguel Angel Gea. Inferentialtakes a casual technique to the professional level. Whether you perform in intimate settings or for large groups, this DVD has something for all.
Inferential Copper/Silver
This is the easiest and clearest version of the copper/silver transposition you can present. With the coins provided and some pocket change, Kainoa teaches you Curtis Kam's incredibly devious transposition of two coins in spectators' hands, without any complicated sleight of hand.
Inferential Wild Coin
Kainoa shares his version of Miguel Angel Gea's wonderfully interactive routine, where four copper coins change into silver and then all revert back again in the spectator's hands.
Standing Inferential
Kainoa provides you with a close-up or stand-up routine that uses the "inferential" concept at the fingertips; letting you recreate some of the best effects in coin magic with the simplest of methods.
Copper/silver set included.
$40
SHIPPING INCLUDED
Victorian Coins and Glass
This is Kainoa's pet routine, and it is a real-world wonder. If you've seen him lecture or perform, chances are you've seen him do it. Whether tablehopping  or on stage, performing for three people or 300, Victorian Coins and Glass is strong, interactive coin magic at its finest.
Includes instructional DVD with the complete routine as well as additional ideas and live performances (1 hr 22 min). Also includes the glass. You provide the coins and that extra something special (A Shell).
$30
SHIPPING INCLUDED